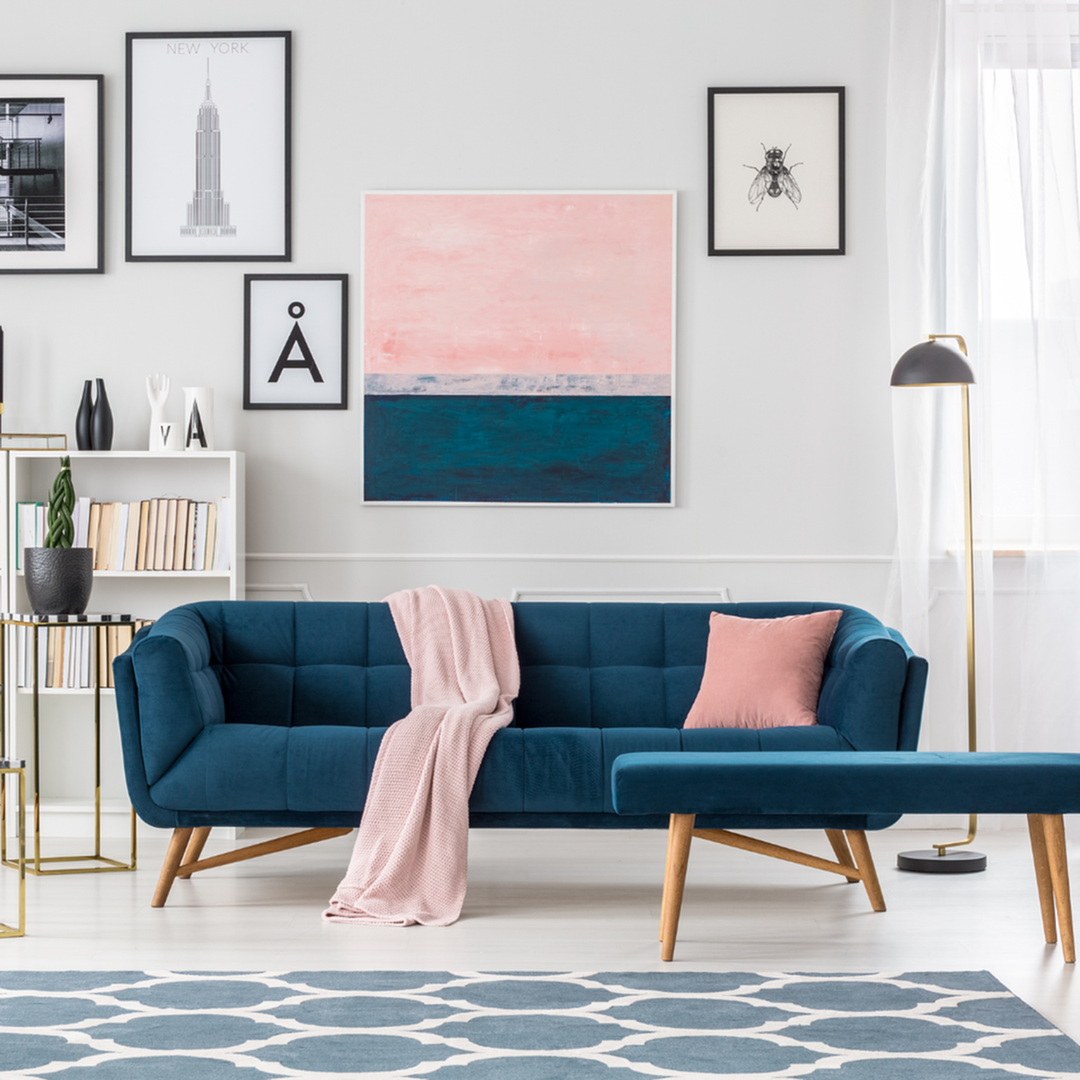 Are you looking to freshen up your apartment but are struggling with ways to spruce it up? Add some color! There are a variety of ways you can add color to your space to create a fresh new dynamic. Even better, all of these methods are fairly affordable and don't require the labor that painting does. When it's time to move out, you can take these items with you to your next home. Read on to learn all about adding color to your apartment to truly make it your own!

Just Ask
If you want to paint the walls but aren't sure if you can, we recommend you just ask your landlord or apartment management. It's important that you already know what color you want to paint the walls and which walls you want to paint. If your landlord is reluctant, remember that you can also offer to repaint the walls when it's time for you to move out. Just be sure that you get the original paint color that they used.

Hang a Tapestry
If your landlord won't allow it or you really just don't want to paint, hang a tapestry! They come in all shapes, sizes, colors, and designs. Although many people think of bohemian designs when they heard the word "tapestry," they're able to match any aesthetic. For instance, Society6 is known for its independent artists that provide quirky, modern, and colorful art for tapestries.

Colorful Rugs
Although many people concern themselves with the color of the walls, the color of the floor is just as important. When you invest in a big and colorful rug, this can often inform the rest of the decor in your apartment. For instance, it may inspire you to purchase furniture that's just as colorful. You also have the option of taking a minimalist approach so that the room doesn't feel too chaotic. If you already purchased a lot of furniture and decor before purchasing a rug, focus on finding a rug that has similar colors as the rest of your decor.

Colorful Furniture
When you look in your living room, the largest piece of furniture in the space is probably your couch. Your armchairs are probably next. With this in mind, if you want a way to add instant color and a modern touch to your space, purchase a couch with a bold color. Couches are often different shades of tan, gray, and black. Break the mold and go for a dark green, dark blue, or even a pink or red. You'll immediately have a fun and funky focal piece. A few neutral accent pillows can help balance the intensity.

Create a Gallery Wall
If there's a large, blank wall in your apartment that you have no idea what to do with, consider creating a gallery wall! With color and theme in mind, purchase frames of different sizes first and take their measurements. Then, cut out pieces of paper that are the size of your frames and stick them to your wall to see the arrangement you like the best. Once you find an arrangement that works, take a photo! You'll reference it as you source artwork and begin hanging each piece. When you're finished, you'll have an eclectic and fun wall that contains photos, paintings, graphics, and quotes that speak to you.

Fill It With Plants
If you're one of the lucky people that has a lot of natural light in their apartment, you need to take advantage and purchase a few plants. Not only can plants clean the air and create a vibrant, living element to your home, but their rich green colors can quickly change the look of your apartment. We recommend starting with hardy tropical plants that thrive in low-light conditions, such as:
Pothos
Spider plants
Snake plants
ZZ plants
Lucky bamboo
Peace lily
Keep your plants as close to your windows as you can and only water them when you feel the soil is dry.

Wall Decals
Apartment decorating can be as simple as sticking something to a wall. Removable wall decals are a great option if you hate hanging things and want a no-fuss option. You can find them online as well as in popular big box stores. Even better, they come in a variety of patterns, shapes, and colors so that they can fit almost any aesthetic. The trickiest part is to install them without making bubbles, so we recommend enlisting the help of a friend or going at a slow and steady pace. If you do get air bubbles, sometimes a hairdryer will help, but it's important to read the manufacturer's recommendations.
If you want to cover large, blank walls, you also have the option of peel-and-stick wallpaper.

Color Pop Decor
Remember that home decor can help you more than you think–you just have to shop with intention. Choose decor items that have the accent color you want in your space. If you find a sculpture, pot, or frame that doesn't have the color you're looking for, you also have the option of spray painting it. Place these decor items strategically around your apartment in order to give pops of color wherever you look. This can be throw pillows on the couch, small sculptures on a shelf above the television, and even the spines of books on your bookshelf.

A Touch of Color Can Do Wonders for Your Apartment
Apartment living doesn't have to be a drab and uncomfortable experience. You can personalize your space with the color you love through these non-invasive methods. The best part is that when it's time to move, you can take all of these items with you. Instead of having to go through the labor of painting only to move and never see them again, tapestries, wall art, and furniture are an investment.

Ready for luxury apartment living in Frederick, MD? Contact us today to learn more about Prospect Hall Apartments!