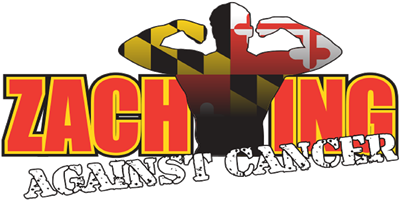 The Rachuba Family Foundation is honored to regularly contribute and work with the Zaching Against Cancer Foundation (ZACF) in the ongoing fight against cancer. This quarter, Zaching Against Cancer is our featured non-profit. From now through March 31, The Rachuba Family Foundation is contributing $20 per move in at both Piney Ridge Apartments & Townhomes and Prospect Hall Apartments to ZACF.

ZACF was founded by John & Christine Lederer after their son, Zachary, was diagnosed with brain cancer at the age of 18. Zach was in his freshman year at the University of Maryland when the diagnosis came. Following a brain surgery in January 2012, Zach's father took a photo of him in a "strongman" pose, which then went viral around Zach's community and beyond and became known as "Zaching."

While undergoing cancer treatment, Zach noticed the disparity in patient care when those receiving the same chemotherapy treatments as he was also stood at cold bus stops to commute to and from the hospital. Zach's dream was to provide funds to cancer patients and their caregivers to help with transportation and other little things often overlooked that can mean the world to a patient.

ZACF provides support, services, scholarships, and grants to both cancer patients and their caregivers. Through their Little Things Program, services such as grocery shopping, home repairs, and bill payments can be covered, lightening the load of daily life along with cancer. The Coping with Cannabis program assists patients in receiving approval through the Maryland Medical Cannabis Commission (MMCC) to receive doctor-supervised pain treatments.

Would you like to join us in supporting ZACF? There are a number of ways to donate, sponsor, volunteer, and even shop for some cool ZACF merchandise. Fun, fundraising events are held regularly including the annual Zaching Running Festival.

Visit their website today to find out how you can help.