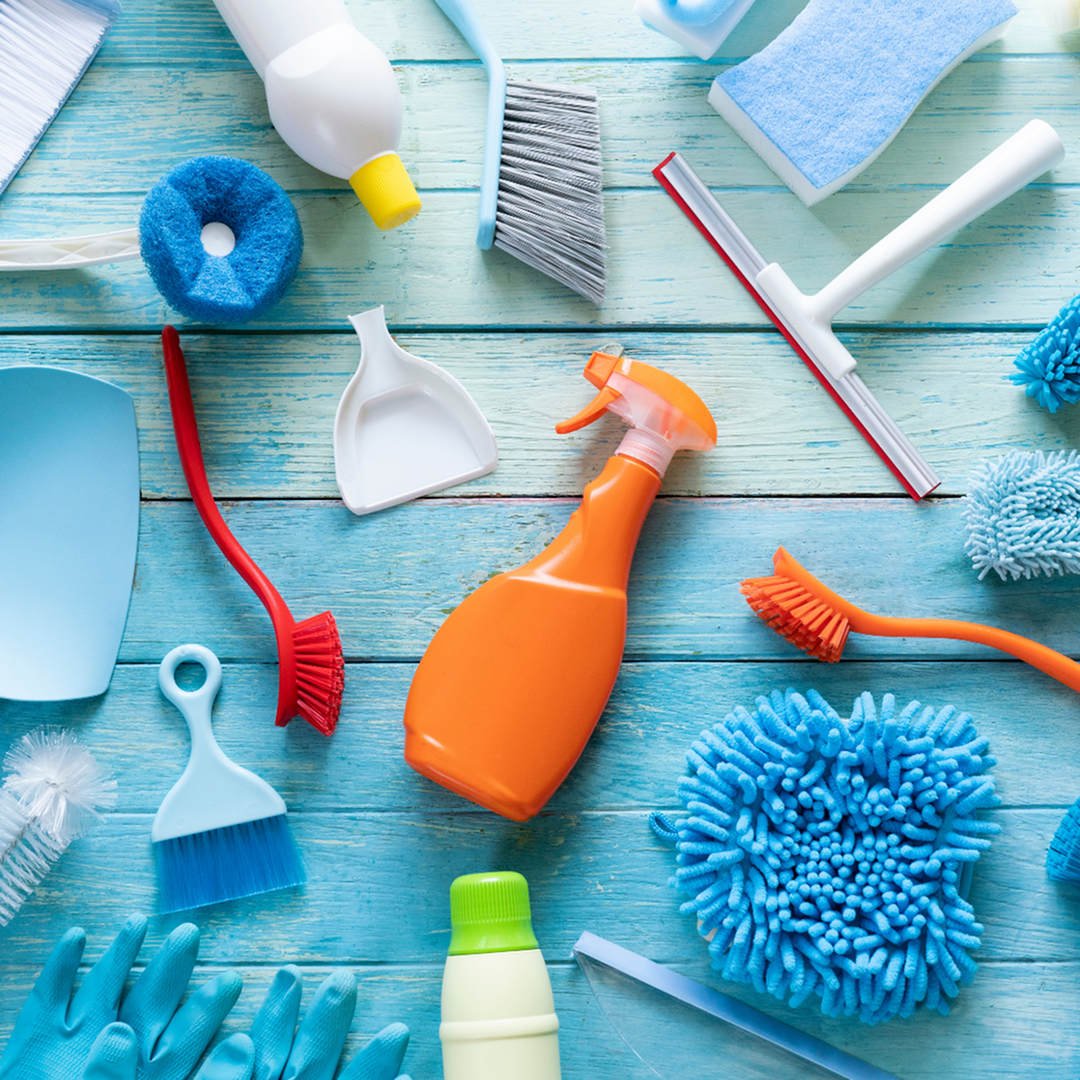 We're glad to welcome 2021 and get a fresh start. Why not give your apartment a fresh start, too? Not sure where to start? This guide is here to help you get a plan for getting your apartment in shape for the new year.

Have Your Cleaning Supplies Ready
Take stock of the supplies you already have. The easiest way to create a list is to gather all of your cleaning products in one place. From there, it's easy to see that you need more bathroom cleaner, dusting cloths, or window cleaner. Make a list of any cleaning supplies you're running low on or missing.

If you're on a budget, consider creating your own cleaning supplies! Remember that certain chemicals can be harmful to you and/or your pets.

If you need to get new supplies, just remember to do research to find out how safe the product is and how it may react with the surfaces you'll use it on. Also check for sales and check wholesale clubs such as BJ's or Costco to find out if any savings are available. Online retailers like Grove Collaborative offer natural cleaning products delivered right to your door.


Make A To-Do List
The answer to this should be everything, but that can feel overwhelming to hear and tell yourself. The easiest way to combat cleaning fatigue is to write out a list of everything you would normally clean, and then add any extras you can think of. Be sure to include commonly overlooked areas such as ceiling fans, baseboards, the top of your refrigerator, your kitchen cabinets, and window treatments.

The main thing here is to clean your house from top to bottom and not forget any of the small things. If the list is overwhelming, spread the cleaning out over several days or a week to make it more manageable.

Clean the Outside of Your Apartment, Too
The outside of your home is just as important as the inside. Wipe down your windows – inside and out – and sweep your patio or balcony. Take a look at your front entry door and make sure it sparkles just like the rest of your apartment. Give your doormat a thorough shake outside and, if it's washable, toss it in the washer for a good cleaning.

Declutter
If you have extra stuff or a pile of items you've been meaning to donate, now is the best time to do so. Are there any clothes you've been wanting to sell? Go through your cabinets and see if there are any mugs or extra cups that should be cleared out. Review the books on your bookshelves and see if any can be donated to your local library or a nearby Little Free Library.

Scour your pantry and cabinets for any food that you can donate to a local food pantry or food bank.

If there are any items you're looking to hold on to but are just taking up too much space, consider renting a storage unit to free up extra space in your home without getting rid of valuable items. This is also a great option for items like seasonal clothing and holiday décor, keeping it out of the way in your home until needed.

Organize
Once you've decluttered, you have the opportunity to organize or even redecorate! If a whole new look doesn't fit in your schedule or budget right now, there are still some fun ways to add color to your home while organizing. Select some pretty organizers and boxes to add some shine or color to your home. Great places to shop include the Container Store, Ikea, and Target. For inspiration, check out a show or blog such as The Home Edit.

Set Solid Habits
Now that you've cleaned up, decluttered, and organized, it's time to set some new habits for the new year. Set a regular cleaning schedule to help your apartment look this great year-round. Apps likZenDen, Motivated Moms, or Dirtfree can keep a running schedule and to-do list to help you stay on top of things. Prefer a paper option? Check out these beautiful home planners by Passionate Penny Pincher.

Make Sure Your Apartment is Clean for the New Year!
Using these helpful tips to clean your apartment, you'll have it shining in no time. An even easier option, move in to an already clean apartment and set it up in an organized way. When you're ready to make your next move contact us and we'll help you tour in person or online.